Cardamom Vitality – 5ml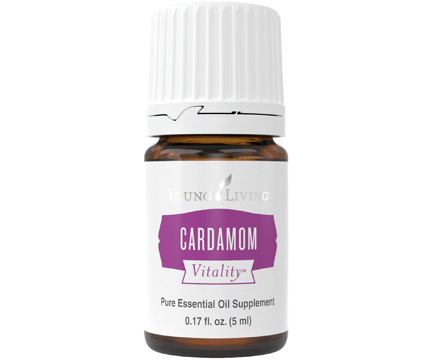 About the Product
The cardamom plant is native to the lush evergreen forests of southern India and has been a highly valued spice since ancient times. Steam distilled from cardamom seeds, Cardamom Vitality™ essential oil has a rich taste and is one of the world's favorite cooking spices. Cardamom's signature flavor is common in both sweet and savory dishes, from Swedish baked goods to Indian curries. It's also a warm, spicy addition hot drinks. With many health benefits, Cardamom Vitality supports wellness and a healthy lifestyle, is a powerful antioxidant, and supports a healthy digestive system.* Cardamom Vitality essential oil is a must-have for every kitchen. Cardamom Vitality Essential Oil Uses: For digestive support,* add 1 drop of Cardamom Vitality essential oil to 1 drop of carrier oil in a veggie capsule and take it as a dietary supplement before or after meals. Take it as a daily dietary supplement to support wellness and a healthy lifestyle. Add it to your favorite smoothies or green juices to enjoy Cardamom Vitality essential oil's powerful antioxidant support.* Add it to your daily regimen to support healthy gastrointestinal function.* Add it to your favorite dishes to accentuate sweet and savory flavors. Add a drop to your tea for a unique flavor. *These statements have not been evaluated by the Food and Drug Administration. This product is not intended to diagnose, treat, cure, or prevent any disease.
Price
Retail: $34.21
Wholesale: $26.00
YL Product #: 5634
How to Use
Dilute 1 drop with 1 drop of carrier oil. Put in a capsule and take up to 3 times daily or as needed.
Why pay retail?
Save up to 24% with Wholesale Pricing!
Did you know you could save up to a whopping 24% on your purchase by becoming a Young Living Member?
What does it mean to be a member? Well, it doesn't mean you are committing to purchase month after month after month. It doesn't mean you are now a salesperson with a quota. What a membership does mean is that you have the ability to purchase a great set of starter oils and you get to make all future purchases at a great discount! It also means that once you fall in love with Young Living products, like I did, you will have the option to tell others about them AND receive a commission check on their purchases!
Ready to sign up? Need to learn more? Click below! Want to just purchase retail for now? No problem! There's an option for that below too!