Carrot Seed Vitality™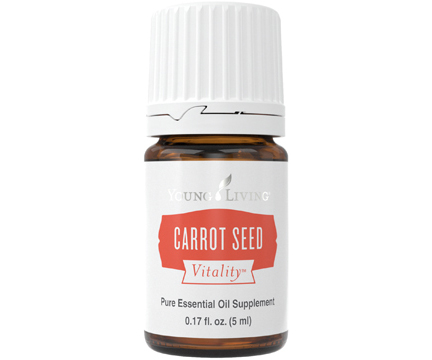 About the Product
Carrot Seed (Daucus carota sativa) Vitality™ essential oil is distilled from the seeds and aerial parts of wild carrots. Carrot Seed Vitality oil provides an herbaceous, floral note to foods, making it a great addition to savory dishes. Its complex flavor brings an earthy, delicious taste to your favorite recipes. With many of the same constituents as the carrots from which it's derived, Carrot Seed Vitality oil's benefits may include supporting health and well-being.* Be sure to include a drop of Carrot Seed Vitality oil as part of your daily wellness regimen to enjoy all of its great properties. Carrot Seed Vitality Essential Oils Uses: Add 1–2 drops to a vegetarian gel capsule and take daily as a dietary supplement to support your well-being.* Add a drop to roasted vegetables for an extra earthy flavor. Use a few drops of Carrot Seed Vitality to salad dressings to infuse fresh greens with its rich taste. Give quinoa or wild rice a new dimension of flavor by including Carrot Seed Vitality. *These statements have not been evaluated by the Food and Drug Administration. This product is not intended to diagnose, treat, cure or prevent any disease.
Price
Retail: $29.28
Wholesale: $22.25
YL Product #: 5618
How to Use
Put 4 drops in a capsule. Take 3 times daily.
Why pay retail?
Save up to 24% with Wholesale Pricing!
Did you know you could save up to a whopping 24% on your purchase by becoming a Young Living Member?
What does it mean to be a member? Well, it doesn't mean you are committing to purchase month after month after month. It doesn't mean you are now a salesperson with a quota. What a membership does mean is that you have the ability to purchase a great set of starter oils and you get to make all future purchases at a great discount! It also means that once you fall in love with Young Living products, like I did, you will have the option to tell others about them AND receive a commission check on their purchases!
Ready to sign up? Need to learn more? Click below! Want to just purchase retail for now? No problem! There's an option for that below too!