140 Oil Premium Display Case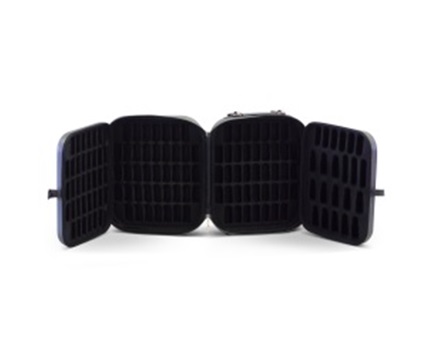 About the Product
This handsome case does double duty as a safe place to store and carry oils and as a display case to use as you share essential oils with others. Young Living's exclusive Premium Display Case holds 140 oils, giving you quick and easy access to your collection anywhere you go. This four-paneled case unfolds so that every label can face forward from each molded foam basin, elegantly displaying your collection. When compacted, it becomes a sleek over-the-shoulder bag. Features include: Room to store 140 essential oil bottles (124 5-ml bottles, including 6 spaces for 5-ml bottles with child-resistant caps, 13 15-ml bottles, and 3 10-ml roll-on bottles) Hard-side exterior case, ideal for carrying oils on the go Foam compartment dividers that hold the bottles snugly in place Compartment inserts give extra protection against bumps and jostling Waterproof zipper buffers interior from the elements and keeps spills contained Soft shoulder strap frees up your hands and makes carrying a breezeCan be used as a standing, fully functioning display case that's perfect for sharing oils with others
Price
Retail: $93.42
Wholesale: $71.00
YL Product #: 5276
How to Use
When transporting essential oils, always place the compartment inserts on the outside panels before closing the case to protect the bottles from dislodging and breaking.
When using as a display case, carefully lay the case on its back and unzip. Unfold each panel and remove the compartment inserts, ensuring that all the oil bottles are secure before standing the case up in the display position.



Care Instructions:

Case exterior: If oil spills on the exterior hard case, wash immediately with a soft cloth dipped in warm, soapy water.
Foam insert: If oil spills on the foam bottle inserts, immediately wipe with a clean, soft cloth and blot to soak up as much spilled oil as possible.
Why pay retail?
Save up to 24% with Wholesale Pricing!
Did you know you could save up to a whopping 24% on your purchase by becoming a Young Living Member?
What does it mean to be a member? Well, it doesn't mean you are committing to purchase month after month after month. It doesn't mean you are now a salesperson with a quota. What a membership does mean is that you have the ability to purchase a great set of starter oils and you get to make all future purchases at a great discount! It also means that once you fall in love with Young Living products, like I did, you will have the option to tell others about them AND receive a commission check on their purchases!
Ready to sign up? Need to learn more? Click below! Want to just purchase retail for now? No problem! There's an option for that below too!