Frying Pan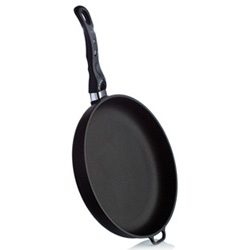 About the Product
Young Living's titanium pans are premium cookware products that cook evenly without sticking, won't warp or lose their shape, and don't have Teflon coating. The titanium coating allows you to cook with little or no fat and is non-porous. The bases are made of cast aluminum, which conducts heat seven times faster than iron or steel. The patented handles have no screws or rivets to loosen and fall off. All handles, lids, and knobs are ovenproof up to 500° F. (Lids sold separately)
Price
Retail: $199.34
Wholesale: $151.50
YL Product #: 4060
How to Use
With the titanium cookware, you can use little or no oil, fat or water for cooking. Food retains maximum nutrients, enzymes and flavor. The surface is a patented, high-tech, non-stick, scratch-resistant titanium finish. The thick thermobasic hand-cast aluminum base ensures optimum heat distribution and retention. The non-porous titanium layer is 100% effective in preventing the aluminum from leaking. The handles, lids and knobs are oven proof up to 500 degrees Fahrenheit (260 degrees Celsius). To clean the pans, use warm water and a little dishwashing liquid and a normal dishwashing cloth. We do not recommend putting the cookware into the dishwasher. Do not use scouring pads, steel wool or abrasive cleaners.
Why pay retail?
Save up to 24% with Wholesale Pricing!
Did you know you could save up to a whopping 24% on your purchase by becoming a Young Living Member?
What does it mean to be a member? Well, it doesn't mean you are committing to purchase month after month after month. It doesn't mean you are now a salesperson with a quota. What a membership does mean is that you have the ability to purchase a great set of starter oils and you get to make all future purchases at a great discount! It also means that once you fall in love with Young Living products, like I did, you will have the option to tell others about them AND receive a commission check on their purchases!
Ready to sign up? Need to learn more? Click below! Want to just purchase retail for now? No problem! There's an option for that below too!