ImmuPro Chewable Tablets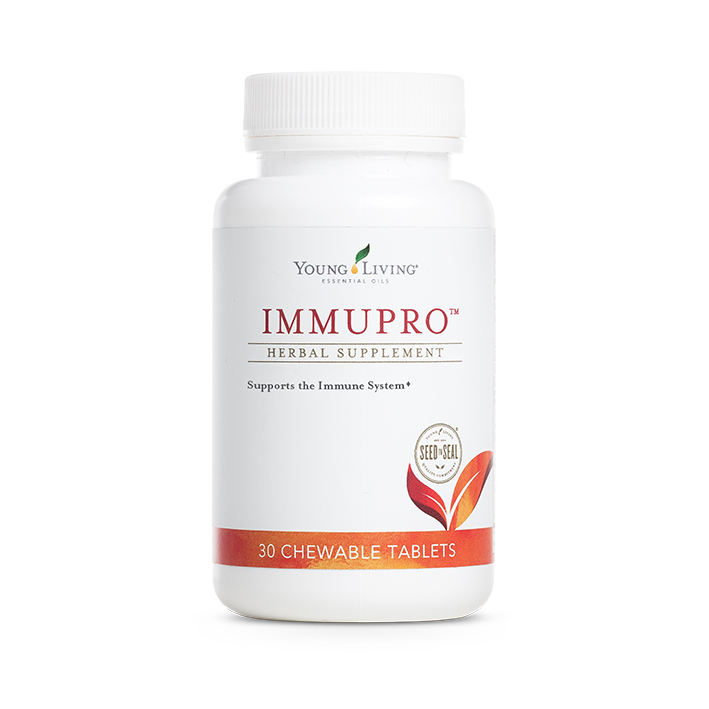 About the Product
ImmuPro™ has been specially formulated to provide exceptional immune system support when combined with a healthy lifestyle and adequate sleep to support the body's needs.* This power-packed formula combines naturally-derived immune-supporting Ningxia wolfberry polysaccharides with a unique blend of reishi, maitake, and agaricus blazei mushroom powders to deliver powerful antioxidant activity to help reduce the damaging effects of oxidative stress from free radicals.* ImmuPro provides zinc and selenium for proper immune function* along with other chelated minerals which emerging science suggests are more easily absorbed by the body. It also delivers melatonin which encourages restful sleep by promoting the body's natural sleep rhythm.* With non-GMO dextrose instead of fructose and more Orange essential oil than ever, this formula delivers more of what you want and less of what you don't! This delicious fruit-flavored chewable supplement also has the same great wolfberry flavor but with a new crunchy texture. *These statements have not been evaluated by the Food and Drug Administration. This product is not intended to diagnose, treat, cure, or prevent any disease.
Price
Retail: $45.72
Wholesale: $34.75
YL Product #: 3213
How to Use
Directions: Take 1-2 chewable tablets daily as needed, at bedtime. Do not exceed 2 tablets per day.

Storage: Keep in a cool, dark place.

Cautions:
• ImmuPro contains Melatonin which may cause drowsiness.
• Do not drive or operate machinery while taking products containing Melatonin.
• If you are pregnant, nursing, taking medication, or have a medical condition, consult a health professional prior to use.
• Keep out of reach of children.
• Consult a health professional prior to use with children.
Why pay retail?
Save up to 24% with Wholesale Pricing!
Did you know you could save up to a whopping 24% on your purchase by becoming a Young Living Member?
What does it mean to be a member? Well, it doesn't mean you are committing to purchase month after month after month. It doesn't mean you are now a salesperson with a quota. What a membership does mean is that you have the ability to purchase a great set of starter oils and you get to make all future purchases at a great discount! It also means that once you fall in love with Young Living products, like I did, you will have the option to tell others about them AND receive a commission check on their purchases!
Ready to sign up? Need to learn more? Click below! Want to just purchase retail for now? No problem! There's an option for that below too!