ICP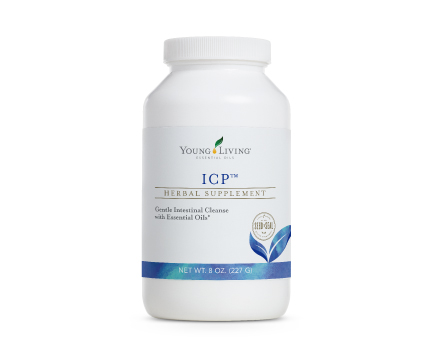 About the Product
ICP™ helps keep your colon clean with an advanced mix of fibers that scour out residues.* A healthy digestive system is important for the proper functioning of all other systems because it absorbs nutrients that are used throughout the body. ICP provides ingredients such as psyllium, oat bran, and flax and fennel seeds to form a combination of soluble and insoluble fibers. Enhanced with a special blend of essential oils, the fibers work to decrease the buildup of wastes, improve nutrient absorption, and help maintain a healthy heart.* ICP provides two grams of dietary fiber, one gram of soluble fiber, and one gram of insoluble fiber per serving.
Price
Retail: $34.87
Wholesale: $26.50
YL Product #: 3208
How to Use
Mix 2 rounded teaspoons with at least 8 oz. of juice or water. If cleansing or eating a high-protein diet, use 3 times daily. If eating a low-protein diet, use once daily. Drink immediately as this product tends to thicken quickly when added to liquid. Tastes best in carrot juice, apple juice or smoothies. Notice: Using this product without enough liquid may cause choking. Do not use this product if you have difficulty swallowing. This product contains Aloe Vera (A. barbadensis) leaf. Read and follow directions carefully. Do not use if you have or develop diarrhea, loose stools, or abdominal pain. Consult your physician if you have frequent diarrhea. If you are pregnant, nursing, taking medication or have a medical condition, consult your physician before using this product.Keep in a cool dry place. Do not expose to excessive heat or direct sunlight. If pregnant or under a doctor's care, consult your physician.
Why pay retail?
Save up to 24% with Wholesale Pricing!
Did you know you could save up to a whopping 24% on your purchase by becoming a Young Living Member?
What does it mean to be a member? Well, it doesn't mean you are committing to purchase month after month after month. It doesn't mean you are now a salesperson with a quota. What a membership does mean is that you have the ability to purchase a great set of starter oils and you get to make all future purchases at a great discount! It also means that once you fall in love with Young Living products, like I did, you will have the option to tell others about them AND receive a commission check on their purchases!
Ready to sign up? Need to learn more? Click below! Want to just purchase retail for now? No problem! There's an option for that below too!