Detoxzyme Capsules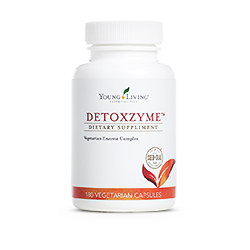 About the Product
Detoxzyme®combines a myriad of powerful enzymes that complete digestion, help detoxify, and promote cleansing.* The ingredients in Detoxzyme also work with the body to support normal function of the digestive system, which is essential for maintaining and building health.*
Price
Retail: $56.58
Wholesale: $43.00
YL Product #: 3203
How to Use
Take 2 capsules three times daily between meals or as needed. This product may be used in conjunction with a cleansing or detoxifying program. For the relief of occasional symptoms such as fullness, pressure, bloating, gas, pain, and/or minor cramping that may occur after eating. Warning: Do not give this product to children under 12 years of age except under the supervision of a doctor. If symptoms persist, discontinue use of this product and consult your physician. Keep in a cool dry place. Do not expose to excessive heat or direct sunlight. If pregnant or under a doctor's care, consult your physician.
Why pay retail?
Save up to 24% with Wholesale Pricing!
Did you know you could save up to a whopping 24% on your purchase by becoming a Young Living Member?
What does it mean to be a member? Well, it doesn't mean you are committing to purchase month after month after month. It doesn't mean you are now a salesperson with a quota. What a membership does mean is that you have the ability to purchase a great set of starter oils and you get to make all future purchases at a great discount! It also means that once you fall in love with Young Living products, like I did, you will have the option to tell others about them AND receive a commission check on their purchases!
Ready to sign up? Need to learn more? Click below! Want to just purchase retail for now? No problem! There's an option for that below too!