NingXia Red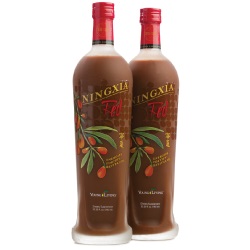 About the Product
WINTER SHIPPING WARNING: NingXia Red may freeze in transit during winter. Upgraded shipping is highly recommended. To best protect your NingXia Red® purchase from freezing, breaking, or leaking during cold months, upgraded shipping to a maximum of 3-day delivery is highly recommended. We also recommend you plan to receive your order when you will be home if you live in a cold area. OR Consider purchasing NingXia Red 2oz single sachets in place of the 750 ml bottle during the winter. Add a daily shot of NingXia Red® to your diet to enjoy the benefits of this powerful, whole-body supplement. This sweet and tangy drink's formula includes wolfberry, which is touted for its health benefits. Also featuring plum, aronia, cherry, blueberry, and pomegranate juices and extracts, Young Living's NingXia Red is packed with superfoods to support overall wellness. In addition to these antioxidant ingredients, NingXia Red's formula includes pure vanilla extract and Lemon, Orange, Yuzu, and Tangerine essential oils for a great-tasting, healthy treat.* Young Living NingXia Red benefits include support for energy levels, normal cellular function, and whole-body and normal eye health. A daily shot of 2–4 ounces helps support overall wellness with powerful antioxidants.* 750-ml bottles of NingXia Red are Halal and Kosher certified. NingXia Red Uses Blend NingXia Red into your smoothie, acai bowl, or morning juice as part of a quick, convenient breakfast. Chill and serve NingXia Red to family and guests at gatherings and celebrations when you're looking for a healthy alternative to sparkling drinks.* Treat children to this tasty drink instead of sugary sodas or juice cocktails. Combine with NingXia Nitro for a nourishing drink that also supports cognitive wellness.* Add a drop or two of your favorite dietary essential oil for an extra flavor boost! Try Peppermint, Thieves®, Cinnamon Bark, or Grapefruit. * These statements have not been evaluated by the Food and Drug Administration. Young Living products are not intended to diagnose, treat, cure, or prevent any disease. Ningxia Red (PDF)
Price
Retail: $96.05
Wholesale: $73.00
YL Product #: 3042
How to Use
Drink 1-2 ounces 2 times daily. Best served chilled. Shake well before use. Refrigerate after opening and consume with in 30 days. Do not drink directly from the bottle. Do not use if the seal is broken.
Ingredients
Click the image below to enlarge.

Proprietary NingXia Red Blend 29g
Ningxia Wolfberry Puree (Lycium barbarum), Blueberry Juice Concentrate (Vaccinium corymbosum), Plum Juice Concentrate (Prunus domestica), Cherry Juice Concentrate (Prunus avium), Aronia Juice Concentrate (Aronia melanocarpa), Pomegranate Juice Concentrate (Punica granatum)
Proprietary Essential blend 50mg
Grape (Vitis vinifera) seed extract, Orange EO (Citrus sinensis), Yuzu EO (Citrus junos), Lemon EO (Citrus limon), Tangerine EO (Citrus reticulata)
Other ingredients: Tartaric acid, natural blueberry flavor, pure vanilla extract, malic acid, pectin, sodium benzoate/natural stevia extract.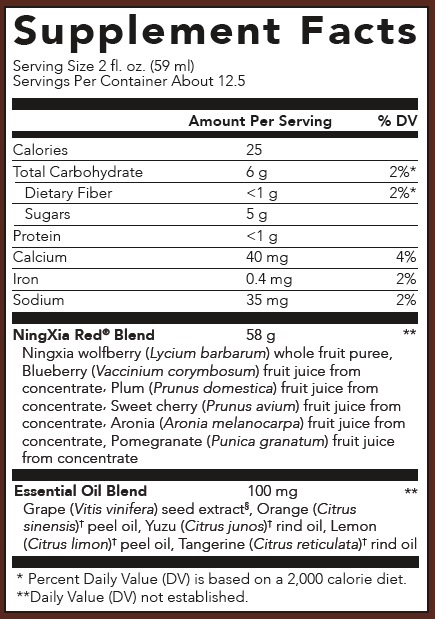 Why pay retail?
Save up to 24% with Wholesale Pricing!
Did you know you could save up to a whopping 24% on your purchase by becoming a Young Living Member?
What does it mean to be a member? Well, it doesn't mean you are committing to purchase month after month after month. It doesn't mean you are now a salesperson with a quota. What a membership does mean is that you have the ability to purchase a great set of starter oils and you get to make all future purchases at a great discount! It also means that once you fall in love with Young Living products, like I did, you will have the option to tell others about them AND receive a commission check on their purchases!
Ready to sign up? Need to learn more? Click below! Want to just purchase retail for now? No problem! There's an option for that below too!