Lavender Calming Bath Bombs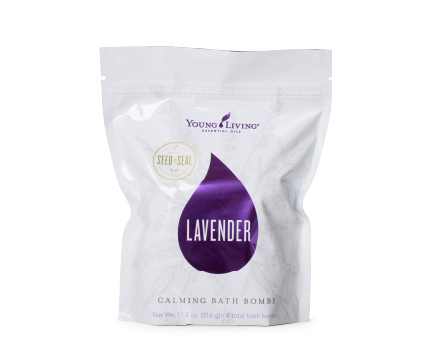 About the Product
Made with Lavender oil and Stress Away essential oil, our new essential oil bath bombs are a fun, fizzy way to unwind. We've used two of our most popular calming essential oils to create these relaxing bath bombs and filled them with nourishing ingredients and no unwanted additives. Lavender essential oil—renowned for its soothing and calming aroma—makes the Lavender Calming Bath Bomb perfect for unwinding after a long day, while the Stress Relaxing Bath Bomb is a special treat thanks to the inviting, vanilla-lime scent of Stress Away oil. These natural bath bombs are made without colorants, synthetic preservatives, parabens, or animal-derived ingredients, making them some of the best bath bombs you can get your hands on! Instead of artificial ingredients and harsh chemicals, we've made these vegan bath bombs with a mineral-rich formula and skin-loving ingredients, such as coconut oil and sweet almond oil. That means they're not only fun and relaxing—they also leave skin soft, smooth, and moisturized. Curious about the essential oils in these products? Check out the Lavender® and Stress-Away® product pages for more information on Lavender essential oil uses and Stress Away essential oil uses.
Price
Retail: $33.88
Wholesale: $25.75
YL Product #: 20671
Ingredients
Sodium Bicarbonate, Citric Acid, Sucrose, Lavender (Lavendula angustifolia) essential oil, Water/Aqua, Prunus Amygdalus Dulcis (Sweet Almond) Oil, Cocos Nucifera (Coconut) Oil, Maltodextrin (Non-GMO)
†100% pure, therapeutic-grade essential oil

Contains nut and coconut/palm ingredients
Why pay retail?
Save up to 24% with Wholesale Pricing!
Did you know you could save up to a whopping 24% on your purchase by becoming a Young Living Member?
What does it mean to be a member? Well, it doesn't mean you are committing to purchase month after month after month. It doesn't mean you are now a salesperson with a quota. What a membership does mean is that you have the ability to purchase a great set of starter oils and you get to make all future purchases at a great discount! It also means that once you fall in love with Young Living products, like I did, you will have the option to tell others about them AND receive a commission check on their purchases!
Ready to sign up? Need to learn more? Click below! Want to just purchase retail for now? No problem! There's an option for that below too!